Gabrielle Davis
Last updated: February 2023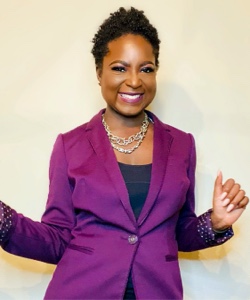 Hi, my name is Gabrielle Davis. I was diagnosed with lupus in 2009 as a 27-year-old newlywed, and just a year and a half later, I was diagnosed with severe lupus nephritis. By 2016, I had to start dialysis due to kidney failure and had to be on my dialysis machine for 11 hours for nearly four years. July 18, 2021, one of the best days of my life, is when I received the call for my kidney transplant and life has never been the same for me in the best way.
I'm a mama to my son AJ, a wife, a communications leader, and lupus and lupus nephritis advocate. As a former news journalist, I use my experience of living with chronic kidney disease and an invisible illness, as a voice for underserved and minority communities.
I began my social media presence under Lupus Sistas, to connect, educate and support the lupus community. While my passion is connecting and supporting the lupus community online, I love providing lupus education and awareness in my local and national communities.
I also work with the Lupus Foundation of America's Central Florida chapter and legislatively, I have advocated for lupus research and funding in Washington, DC. I also partner with pharmaceutical companies to provide a patient perspective on lupus nephritis and lupus medications.
Click here to read all of Gabrielle's articles on Chronic-Kidney-Disease.net.